Gillis aerospace, a certified and recognized company

GILLIS aerospace pays a lot of attention since many years to the reliability and robustness of its Quality Management System.
In addition to ISO 9001, EN 9100, NADCAP accreditation, GILLIS aerospace holds specific certifications released by Aerospace key actors such as: AIRBUS, SAFRAN, ZODIAC, LIEBHERR, etc.
CERTIFICATIONS NADCAP NDT, ISO 9001 & EN9100

GILLIS aerospace is NADCAP, ISO 9001 &EN 9100 certified under the scope: "Manufacturing of Aerospace fasteners, Precision Manufacturing, Surface Treatment (Passivation, Silver coating, Cadmium plating), Non Destructive Testing (Liquid Penetrant)".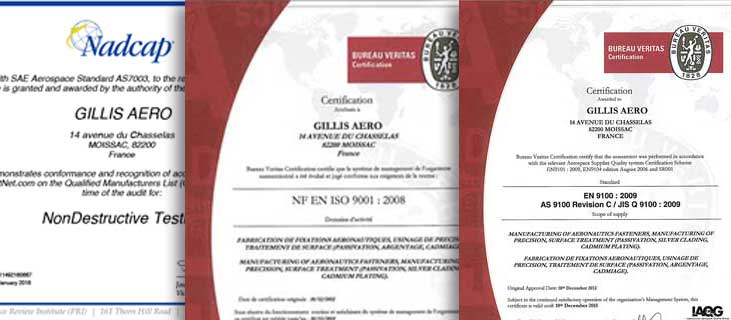 QUALIFICATIONS AIRBUS, SAFRAN, ZODIAC, LIEBHERR…

GILLIS aerospace is also qualified by main actors of the Aerospace sector for Surface treatment and Laboratories activities such as:
• Hardness check: Brinell & Vickers according to ISO 5606 & 6507 standards
• Cadmium plating: EN 2133; AMS QQP416; Air 3376; CCT LB522
• Silver coating: EN 2786; CCT545; PAQ58C531; MFT0163
• Passivation: EN 2516 (C1); AMS2700 (methode 1, type 1); MFT0128
• NDT liquid penetrant: P3 S3 on parts H3 & H4 according to CCT 00418 standard